A meaningless piece of paper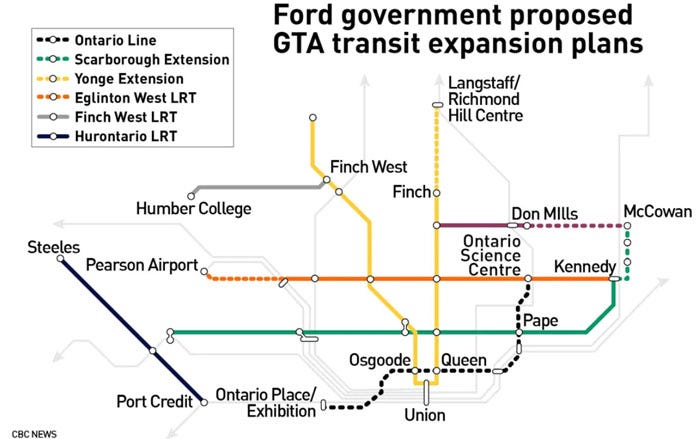 City of Toronto News Release
February 14, 2020

Today, the City of Toronto and the Province of Ontario signed the preliminary Toronto-Ontario Transit Partnership Agreement.
This agreement is the first in a series of agreements between the Province and City related to several transit initiatives.

Both governments are committed to working together to expand transit in Toronto. This agreement relates to the multi-billion dollar investment in transit initiatives over the next twenty years. In particular:
• The Province of Ontario's four priority transit projects:
–The Ontario Line
–Line 2 East Extension (three-stop expansion of Line 2 into Scarborough)
–Yonge North Subway Extension and
–Eglinton Crosstown West Extension
• TTC state of good repair enhancements, modernization/upgrades
and other expansion to the TTC subway system
• The Bloor-Yonge Capacity Enhancement Project
• The stations program for GO Expansion/SmartTrack in Toronto
• Commitment to ongoing Province-City engagement and collaboration to
support delivery.
So after years of nothing but yak, yak, yak, the city and the province have signed a preliminary agreement. That's all. Just the first of many pieces of paper to come.
What Toronto needs is ACTION not mere words. So is there "A Better Way"?
As you will read below, the English HS2 high-speed train line is in trouble so the British are considering asking the Chinese for help. The Chinese say they can build it faster and cheaper.
I like their statement: "You will find that the Chinese way is to seek solutions, not linger on obstacles and difficulties."
—H. Marshall
UK holds 'preliminary discussions' with China over building HS2
The Guardian
15 February 2020
Britain is in talks with China over giving Beijing's state-owned railway-builder a role in constructing the troubled HS2 high-speed link. The China Railway Construction Corporation (CRCC) has said it can build the line in just five years at a much lower cost than is currently forecast, according to the Financial Times.
Department for Transport (DfT) officials confirmed "preliminary discussions" had taken place between CCRC and HS2 Ltd, but said no "concrete commitments" had been made. "The DfT is always keen to learn from the experience of others and to consider approaches that offer value for money to the taxpayer," one official said.
However, the FT reported that CCRC had written to HS2 Ltd's chief executive last month saying it could build the line by the middle of the decade, for a much-reduced price tag. The letter states: "We are certain that we can offer a cost that is significantly lower than the projections we have seen. The advantages are too great, in our opinion, too great to dismiss on the basis that there are obstacles to overcome. You will find that the Chinese way is to seek solutions, not linger on obstacles and difficulties."
Tom Tugendhat, the chair of the Commons foreign affairs committee, said allowing the CRCC to build HS2 would be "extremely questionable".
He told BBC Radio 4's Today programme: "We are in dire need of a proper China strategy. We are being offered, at extraordinarily generous terms it appears, everything to connect our telephone networks, to connect our cities and to connect our power networks.
"Have we decided to take back control from Brussels just to hand it over to Beijing? The idea that we should allow others to act like we did in places like India and Nigeria for the best part of 200 years here in the UK would be extremely questionable."
"The reason why Chinese projects in China are very often so quick is because they don't worry about such minor matters as planning consent or workers' rights," he said.
"It seems extremely unlikely that without really short-cutting any number of labour conditions that it would be possible."
http://bit.ly/31VCUA6
Eglinton Crosstown LRT won't be ready until 'well into 2022,' Metrolinx says
CBC News
18 February 18 2020
Transit users in Toronto will have to wait until "well into 2022" before they can ride the Eglinton Crosstown, Metrolinx says.
The 19-km light rail line was previously scheduled to open to the public in September 2021.
In a statement released Tuesday, Metrolinx president and CEO Phil Verster attributed much of the delay to the group of private companies building the $5.3-billion project in partnership with the province, Crosslinx Transit Solutions (CTS).
More than 100 businesses have closed on Eglinton Avenue because of the construction, (Councillor) Colle added. He said it has been nine years of "construction hell."
http://bit.ly/2SCw93h
Eleven years, maybe more to build a pretty straight forward LRT line. It is telling that the Metrolinx president does not blame himself, the provincial or municipal politicians, the TTC or the unions but private companies. (Corporations who cannot defend themselves if they ever want to get any future government contracts.)
Will it be finished in 2022? Maybe. Who would be willing to stake their personal wealth on that promise?
I have to return to: "You will find that the Chinese way is to seek solutions, not linger on obstacles and difficulties." To which we reply: "You will find that the Canadian way is to point fingers and blame others."
—H. Marshall